Now Open: Arroz Sorcieres Megacenter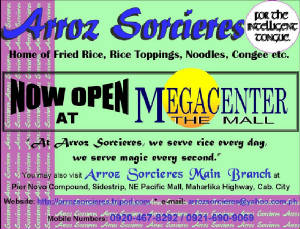 August 16, 2006 - Arroz Sorcieres celebrated the blessing and opening of its branch at the lower level food court of Megacenter the Mall in Cabanatuan City.
We at Arroz Sorcieres feel very privileged to have the opportunity to serve you at one of Nueva Ecija's finest malls.
Please visit us and try our wide selection of scrumptuous meals! We are looking forward to seeing you there!
Below are some photos from the opening.

Ready for customers!!!


Arroz Sorcieres management and support staff at the Blessing and Opening of its Megacenter branch



The newest additions to the Arroz Sorcieres family


Staff News: Promotions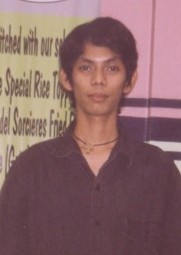 Don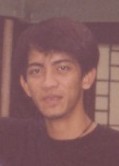 Dominic
August 13, 2006 -- We are pleased to announce the promotion of staff members Dominic Cruz and Don Patrick Villanueva to the position of Operations/Product Development Officers. Dominic will be in charge of our main branch at Pier Novo, and Don will be in charge of our soon to open Megacenter branch. Congratulations for a job well done and we are confident you will be great at your new positions!
In related news, our staff member John Carlo Bautista is currently training for a job overseas. We will miss your efficiency, effectiveness, but most of all we will miss your presence and friendship. We wish you luck on your future endeavors!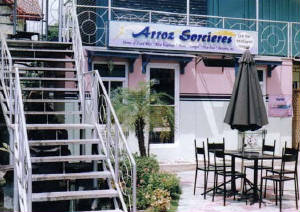 August 2006
November 2005
By the way, have you visited our main branch lately? You will be surprised at the improvements! We are constantly improving our appearance in order to better serve you. Also, watch out for new menu offerings soon, and we will be introducing you to new additions to our staff!
Arroz Sorcieres Joins Good Samaritan Colleges in Celebrating its Foundation,
Co-sponsors "Road Challenge 2006"
February 22-24, 2006