Arroz Sorcieres - Pier Novo
Welcome to our home on the web!!! We hope you will find our website informative, and an effective means of getting to know who we are and what we can offer.
Arroz Sorcieres' main branch is located at Pier Novo Compound (beside NE Pacific Mall Side Strip), Km 111, Maharlika Highway, Cabanatuan City, Nueva Ecija. We would like to invite you to visit us and try any of our scrumptious meals fit for the most sophisticated of tastes. Live bands are also featured at Pier Novo on Wednesday, Friday, and Saturday nights. Relax, unwind, and have a grand time at Arroz Sorcieres!!! In addition, we have just opened our second location at the lower level food court of Megacenter the Mall. We are happy to have the opportunity to serve you at one of Nueva Ecija's finest malls.
Live Bands at Pier Novo

Wednesdays: Fushion * Fridays: Public Eye * Saturdays: Playbox

The perfect nights to come & unwind at Arroz Sorcieres!!!
What makes us different from all other restaurants in Cabanatuan City? Apart from good food and a diverse menu derived from local and international influences, Arroz Sorciéres, though just a humble upstart, boasts a team of dedicated, talented, and team oriented staff and crew ready to be at your service at all times.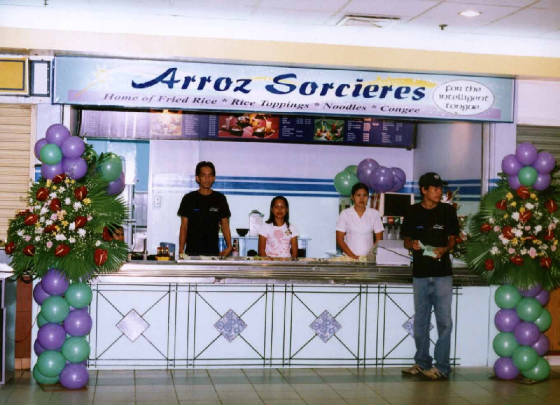 Arroz Sorcieres - Megacenter the Mall
This extends not only to our customers but to our community, because Arroz Sorciéres is an organization that believes in and lives by Immanuel Kant's "Categorical Imperative," which states that we should always strive to act in ways justified by reasons so universal that they are good for all people at all times.
Visit us at Arroz Sorciéres today, we look forward to seeing you!!!
Please feel free to browse our website for company information, menu items, and promotions available for our valued customers. The links to these informational pages are located at the top of this page. We look forward to a long lasting relationship with you!!!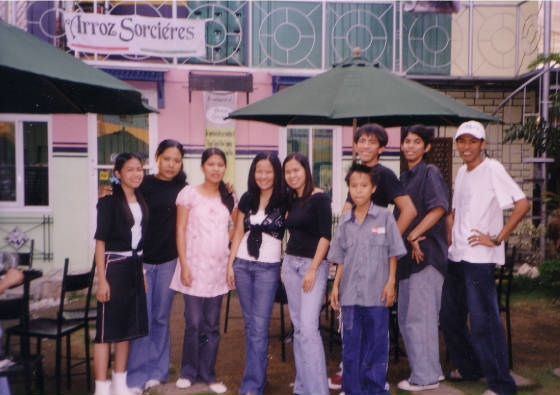 The Arroz Sorcieres Family, January 2006